myo-ther professionaL MASSAGE  Products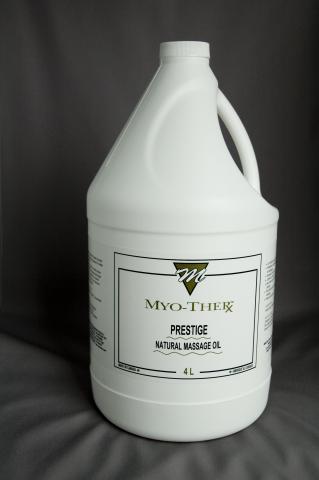 Myo-ther Signature Massage Lotion 
A Superior lubricating lotion that provides long-lasting friction-reducing lubrication that is easily washed off. The lotion applies smoothly to the skin and is hypo-allergenic, odourless, and can be used as a carrier for essential oils. The lotion is water-soluble and washes easily out of sheets and clothing, leaving no residue begin to build up rancid smells.
Available in 50ml, 1L and 4L
Myo-ther Advantage Deep Tissue Cream
Myo-ther Advantage has an extra thick and creamy formula that maintains it's luxurious texture throughout a massage. It provides exceptional coverage for the massage, minimizing re-application and leaving your client's skin feeling silky smooth, never oily or sticky. It also provides enough glide for effleurage and enough grip for deep tissue work. Another hypo-allergenic product for both clients & practitioners with sensitivities.
Available in 50ml, 450ml and 4L
Myo-ther Essential Natural Massage Gel
Myo-ther Essential is an all-natural, all-purpose oil-based massage gel. It warms and spreads easily, providing exceptional coverage and workability. It is specifically formulated for both clients & therapists with skin sensitivities using the most hypo-allergenic natural ingredients available. It does not contain parabens, mineral oil, nut oils, added fragrances or scent neutralizers.
Available in 50ml, 2L and 4L
Myo-ther Prestige Natural Massage Oil
Myo-ther Prestige is a soy bean based natural massage oil. It maintains exceptional coverage and spreadability throughout a massage and has a warm, smooth texture. It contains no parabens, alcohols, nut oils, or mineral oil. And we have added a sugar-based vegetable oil dispersant for better washability.
Available in 50ml and 4L
Myo-ther Genie Plus Table Cleaner & Disinfectant
Myo-ther Genie Plus is a unique disinfecting spray cleaner, suitable for use on Naughahyde, vinyl, plastic & leather. Myo-ther Genie Plus disinfects on contact and is a necessary step in proper infection control procedures. It has superior grease-cutting ingredients enabling it to clean, polish, and disinfect, leaving no sticky residue. It contains no alcohols to dry and crack surfaces.
Available in 120ml, 160 wipes, 700ml spray and 4L 
Myo-ther Nzyme Laundry Additive
Myo-ther Nzyme is a multi-enzymatic cleaner that completely breaks down & dissolves carbohydrates, proteins, fats and oils. It can be used either as a laundry spot pre-treatment, or added to your regular laundry detergent. It can even be diluted as a great surface cleaner. Myo-ther Nzyme is completely bio-degradable and highly concentrated: 1oz to a gallon of water for surface cleaning or 1oz for a full load of laundry.
Available in 1L squeeze & measure and 4L
Also available:
* IC Gel Waterless Hand Sanitizer (500ml & 2L)
    - chamomile, mandarin or ginger citrus scents
* Soothing Skin Antimicrobial Hand Soap (500ml & 4L)
Accessories:
* Empty bottles (120ml, 250ml, 1L)
* Empty 700ml bottle with sprayer
* Pumps (250ml, 1L, 2L, 4L)
Myo-ther Complete Paraben-free Massage Lotion 
Myo-ther Complete is a deluxe, all-purpose, paraben-free massage lotion. It has a smooth & silky texture for easy application and proven long-lasting performance, all but eliminating the need for re-application.This mild water-based formula wipes off and washes out easily, preventing staining and odours. It is hypo-allergenic and fragrance free, just like our other lotions.
Available in 50ml and 4L